Services
Creative Development
Our energetic & inventive creative team will bring your message to life, transform your event and galvanize your audience by developing a strategic creative plan that develops unique entertainment, meeting content and production design around the theme of your event. We stay on top of current and emerging trends and mediums to insure that your event is fresh, vibrant, and on the cutting edge. We always start with what is new and different. Then we make it yours by branding it to you. From our initial brain – storming session to the scripting and final staging phases, we create, develop, and deliver fresh and exciting entertainment solutions that take your event from ordinary to spectacular!
Staging
Our awesome set designers, lighting designers, technical directors and our wonderful stage crew know no limits when it comes to creating the "world" of your event. We work directly with venues and insure that everything goes off without a hitch.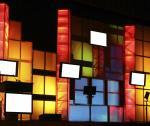 Visuals
The look of your event needs to match your message. From eye-popping graphic presentations to powerful, message driven videos our Visual Department experts will bring a cohesive look and feel to your event. We work directly with you and we make you look great!
Scripting
You have a lot to say. Our speech writers, speaking coaches and teleprompter specialists will help you develop your meeting content, fine tune your presentations, and keep you fresh and on point. Our writers can also create a Unique Soundtrack for your event with customized lyrics and musical numbers, wonderful skits and interactive segments that involve our clients and audience members. With the right writers, your event will go to the next level.
Talent
Entertainment should be spectacular, but it should also be relevant. We have access to a vast array of supremely talented entertainers. If you need it, we have it! Headliners, Gospel Choirs, Motivational Speakers, Cirque-Style Performers, Meeting Hosts, Specialty and Themed Bands and Orchestras, Dancers, Showgirls, Actors, and more. Here is the key … the entertainment is are always tied in to your message, theme or vision. That is our specialty … making it all mean something, and wowing our clients.
Customized Entertainment
Rather than settling for standard "shows in a box" clients are offered the refreshing option of enjoying auditioned, hand-picked talent, and individually-customized productions that are created from scratch and custom-tailored for our clients. Every event we produce is a one-of-a-kind, singular experience that brands your message.